I know this is a day late, but...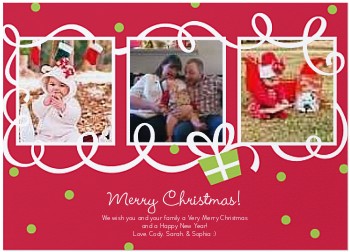 Wrapped With Color Christmas
I hope everyone had a Merry Christmas!
Ours was extra special since it was Sophie's first!
She is 6 months old now and sitting up on her own!
She is absolutely adorable and I fall more in love with her every day!
I (as well as most people at the beginning of a new year) will be trying to start my healthy habits and running again in the new year...
I have to change my eating habits for my daughter. She will be eating off my plate very soon, and I do not want her to be grabbing pizza and cookies...I would rather her grab carrots and spinach!
One of my "excuses" for not getting outside with her is because she won't sit still and cries when I put her in the carseat and in the jogging stroller for a run....Well...I think it's about time she sat in the big girl seat in the jogging stroller! I bet she will love that now! I'm hoping to eliminate a lot of my excuses and just get out there...
Here's to 2012 and starting fresh! :)
My baby girl is growing up too fast!!
Happy New Year!!! :)